Quality management system
Apragaz is accredited according to EN ISO IEC 17021-1 and is active in the certification of management systems. We are also recognised in the assessment of management systems implemented under a series of European directives and international regulations.
Quality
ISO 9001 - Quality management system - Requirements
ISO 13485 - Medical devices - Quality management system - Requirements for regulatory purposes
Environment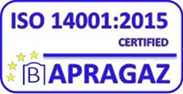 ISO 14001 - Environmental management system - Requirements and guidelines for its use
Welding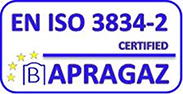 EN ISO 3834-2/3/4 - Quality requirements for fusion welding of metallic materials —Comprehensive/standard/Elementary quality requirements

Certification of FPC 2+ factory Production Control
system for steel and aluminum constructions
EN 1090 - Execution of steel structures and aluminium structures
Certification of welding procedure and welder qualifications
Apragaz is as NOBO able to certify welding procedures and welder qualifications within the framework of European Directives (e.g. PED, SPVD,...).
For more information
Contact us:
This email address is being protected from spambots. You need JavaScript enabled to view it.